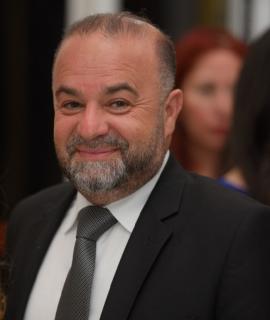 Mohamed-Ali Kabbani
Board Member
Member of The Lebanese Bulgarian Business Council
KC Engineering & Industry
Chairman and CEO
Mr. Mohamad Ali Kabbani is the Chairman and CEO of KC Engineering & Industry, an engineering and contracting firm headquartered in Beirut, Lebanon. Since its establishment in 2004, KC Engineering & Industry has become a major EPC Contractor, Supplier and Panel Builder/System Integrator for the industrial, commercial and residential sectors in the Middle East and Africa. KC thrives to provide its clients with products and solutions that meet the highest standards of quality and reliability. The staff is composed of highly qualified managers, engineers and technicians with extensive expertise in Electrical Power Distribution and Transmission, and an in-depth knowledge of Low, Medium and High Voltage Electrical Systems. Serving customers in utilities, industry and infrastructure, and successfully delivering major turnkey projects in both the public and private sectors, KC has positioned itself among the leaders in the markets where it operates.
Mr. Kabbani graduated in 1981 with a Baccalaureate (Mathematics) from College Protestant Francais. He later traveled to the United States to pursue his education and obtained his Bachelor's Degree in Electrical Engineering (1986) from George Washington University, Washington, USA and his Master's Degree in Electrical Engineering (1987) from Cornell University, New York, USA. Throughout his career, he has held several managerial positions in Lebanon, Qatar, Kingdom of Saudi Arabia and the United Arab Emirates.
Mr. Kabbani is a member of IRADA, a group of leading Lebanese businessmen. He was previously the Head of the Business Development Committee at IRADA, and is currently the Head of the PR Committee. In addition to being a Board Member of the Lebanese-Italian Business Council, Mr. Kabbani is also a Board Member of the Lebanese-Bulgarian Business Council and serves on the Advisory Board of the Electrical Power and Machines Program at Beirut Arab University's ECE Department. 
EPC Contractor and Supplier for Low, Medium and High Voltage Electrical Products and Systems - Panel Builder/System Integrator – Solution Provider i.e. Maintenance, Repair and Retrofit Services.