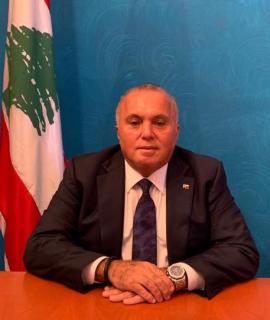 Ahmad Muhieddine Alaeddine
President
Member of The Lebanese Bulgarian Business Council
Ahmad Muhieddine Alaeddine is a well-known trader in Lebanon. He has more than thirty years of expertise in local and international trading and has developed over this long period, proficiency in contract development, communication skills and commercial activities. He is the president of the Lebanese – Bulgarian Business Council. He also has been president of the Chouf Traders Association for four years and now he is the president of Iklim El Kharroub Traders Association that combines 25 towns in the Iklim. He is the vice president of Mount Lebanon Traders Federation that groups about 30 trade associations in the whole Mount Lebanon area from Saida to Jbeil going through North and South Metin which concern in the organization and the development of the commercial sector in the area.
Mr. Ahmad Alaeddine has developed a large experience in the commercial sector and an imminent background in trading inherited from his father Mr. Muhieddine Alaeddine. With ambition and vehemence to offer the best to his country, boost local economy and offer work opportunities to young generations and open up new markets worldwide, Mr. Alaeddine now leads more than 15 trading companies for more than 20 years. He took the management of these companies after the death of his father. His father started this business in 1965 and he was the first importer of fresh meat from Bulgaria, there charters planes weekly from Bulgaria to Lebanon, loaded from Veliko Tarnavo slaughter house, in additional of that Frozen Chicken from Pleven, Dairy Products from Gabrovo and Live Cattle through Bourgas port.
Ahmad Alaeddine Trading Establishment
General Manager
This company has been established in 26/10/1983. It undertakes mainly general trading activities.
Sons of Muhieddine Alaeddine S.A.L
Chairman
This company has been established in 29/04/1992 and undertakes mainly trading activities in addition to the following:
Carrying out industrial and commercial business.
Manages and invest and Trade on its behalf and on behalf of others raw materials, goods and commodities.
A&C Contracting International Ofshore SAL
Chairman
This company has been established in 26/04/1996 and its main responsibilities are:
Conducting Studies and consultancies
Organizing Contracts and agreements
Providing different services in trade and real estate
Import and export outside Lebanese territories
This Company is the Exclusive agent for Lebanon and all the Middle East, for many Bulgarian Companies, mainly:
Dairy Food Bulgaria
Cremio AD
PHILICON – 97 SA
FILKAB – AD
ORION 5
PAVOLI FOOD Industries LTD
DAGA Design LTD
BALKAN AGRICULTURAL LTD
ELICOM Electronic – Georgiev KD
AGROMILL Bulgaria AD
DIAMANT BG. LTD
BS GAS TRADE Ltd .
VALCHEV OOD
WELLDRINKS LTD
M & M MILITZER & MUNCH BG Co. Ltd
TERRA TOUR SERVICES LTD
LORD I & G Ltd
Ram Commerce Ltd
The Company has a MEMORANDUM OF COOPERATION with Sofia Municipal Privatization & Investment Agency (SMPIA) signed by the CEO of Sofia Invest Mr.Vladimir Andonov Danailov.
A&C Contracting S.A.L.
Managing Director
This company has been established in 03/07/1997. It is engaged in construction works, the supervision and the implementation of various projects in Lebanon, Saudi Arabia, Jordan and Abu Dhabi.
Aladdin Maritime Agency S.A.R.L
Chairman
This company has been established in 09/12/1999. It is engaged in the naval and maritime transport and deal with maritime agencies. The company owned three vessels that transport livestock from countries of origin to Lebanon and other countries in the region like Egypt, Syria, Libya and Jordan.
Aladdin Livestock S.A.R.L
Chairman
This company has been established in 15/10/2002. Its main activities are import, export and marketing of meat and all kinds of Livestock, birds, fish and breed.
Aladdin Livestock and Meat S.A.R.L
Chairman
This company has been established in 09/03/2004. It undertakes general trading activities of all kind of food products especially meat. The company was the main supplier of meat in Lebanon for more than 15 years.
Representative Office in Sofia – Bulgaria for A&C Contracting International SAL (Offshore)
ALIMPEX F AND B OOD – Bulgarian Company established in 2017 – Sofia - Bulgaria